Our Mission
Create a Bridge between Tea Growers and Tea Drinkers
Our team has spent the past year working with tea growers in Hawaii, Japan, India,Indonesia, Taiwan, China, Sri Lanka, Nepal, and South Korea. We have grown a passion for advocating for the growers that have worked for generations upon generations to perfect the art of tea making. The US market is becoming increasingly interested in tea as mainstream retailers are adding more specialty tea options to their menus, including loose leaf tea.
Here is a brief idea of what the tea industry looks like from the perspective of the tea farmer.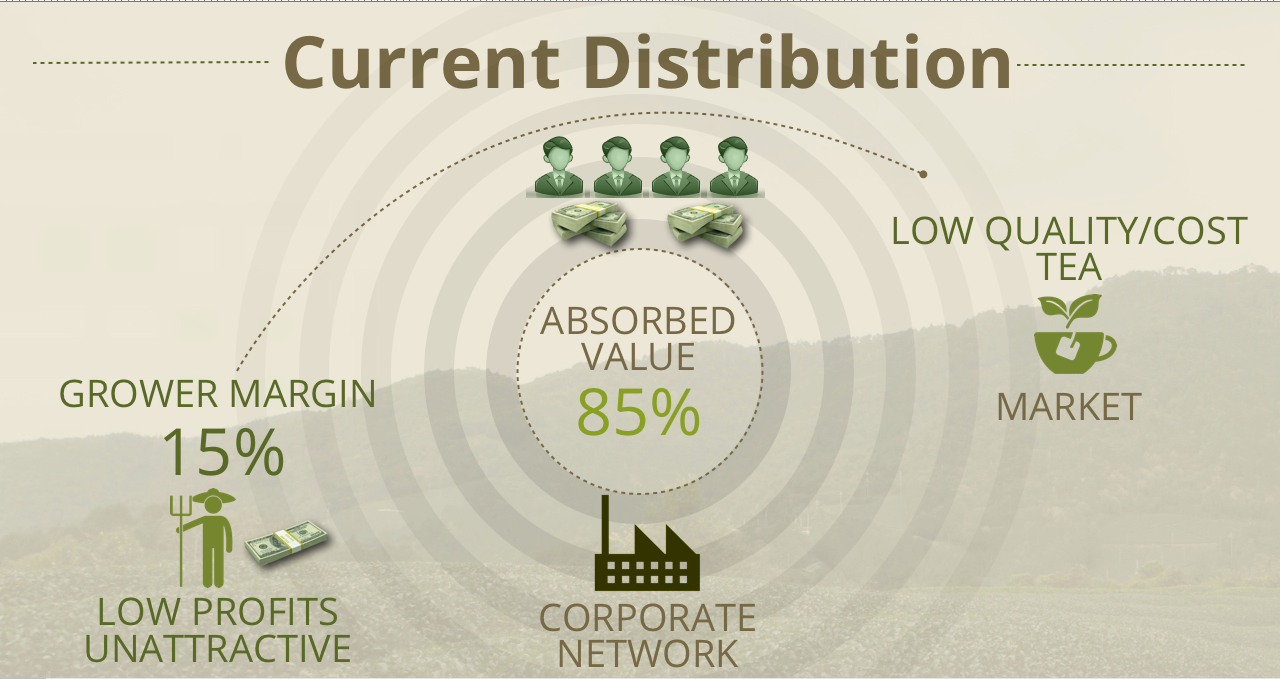 Japanese Tea Farmers
Farmers in Japan have been growing tea for generations. Most tea is harvested and sold to a local government agriculture cooperative called JA. JA is then responsible for processing and marketing this tea by utilizing their scale and expertise to get this tea to the global markets. The average age of a tea farmer is 64 years old and most of these farmers have been dealing with the JA system for over 50 years. It is a stable revenue source for farmers that have little to no business expertise. The main problem with large government cooperatives that process and distribute tea is that the highly bureaucratic system absorbs most of the value the tea sees by the time it makes it to market.
From a recent survey conducted by Tealet with tea farmers in Japan it was found that the average price a tea farmer will receive from JA is $16 per pound (ranging from $2.50-$40 per pound depending on season and quality). The average price of these teas in the US market is $105 per pound. This means that the complex distribution system absorbs almost 85% of the value.
This loss value for tea farmers in Japan has made it very difficult for the aging farmers to convince their children to take over their farms. Youth in Japan is more interested in moving to the city to get high paying jobs. The consequence of this is depopulation in rural areas and the abandonment of fertile farmland in the countryside of Japan.
Leveraging Technology to Increase Value
Advancements in technology and connectivity on the internet have made it possible for these tea farmers to integrate their businesses vertically and sell their tea direct to the market. This means they are able to significantly improve their situation in the market and improve the livelihood of their communities.
This is great for US tea drinkers that are interested in learning more about where their tea comes from. Of course this will only be possible if the tea farmer is able to speak English. Many growers are more than happy to sell tea to the US, but they do not know how to speak English or access the market.
Tealet's Value
Tealet provides these farmers an opportunity to post their stories and teas which are then presented to the US market. In Tealet's model the farmer receives 3 times more value than selling to the traditional distribution system because they can receive $50 per pound on average on Tealet.
In addition, because there are less middlemen in the system Tealet is able to offer more value to the end customer. The average price of these Japanese teas on Tealet is $84 per pound compared to $105 per pound which the market currently sees. That is a 20% reduction in price for the consumer.