The Story of a Global Tea Family
Tealet is a small team based in Las Vegas, Nevada.
Founder, Elyse Petersen and Cofounder, Jane Gonsowski learned about the infinite opportunity for a Hawaii Grown Tea Industry while co-authoring a collaborative research study for the State of Hawaii. After completing this report they looked at a variety of business models that would help develop a healthy industry in Hawaii.
During this time Elyse did an internship on a tea farm in Kyoto where she started to develop a network of tea growers around the world that face similar issues as tea growers in Hawaii. Tealet was born when Founder Elyse Petersen pitched the idea at Startup Weekend Honolulu on April 28, 2012.
Tealet has gone on to become a market leader for Direct Trade Tea and consists of a network of thousands of others with a common goal to bring transparency to the tea industry.
Other key members of the Tealet team: Rie Tulali (Accounts Manager/Sales) & Cody Moniz (Web Developer)
-- Get a Tealet Tea Shirt to show your support --
Elyse Petersen

/r/IAmA
Elyse Petersen - Founder/CEO
Elyse Petersen is a Global Tea Ambassador with the International Tea Farms Alliance. She has spent time working with tea farmers in Wazuka, Kyoto, Japan. This experience has inspired her to help tea culture across the U.S. and around the world. Petersen is an experienced international development worker in the area of food security, natural resource management, and sustainable food preservation, having served as a Peace Corps volunteer in Niger, West Africa and Antigua and Barbuda, Eastern Caribbean.
Elyse graduated from Shidler College of Business with a Japan-focused M.B.A and from California State Polytechnic University, Pomona with a B.S. in Food Science and Technology. You can learn about Elyse's passion for collaboration in this talk she gave at TEDx Honolulu: A Mango in the Sun.
Michael Petersen - Marketing/New Media Director
Michael Petersen graduated with a B.A. in Communications from the University of Hawaii, Manoa but has developed as a media producer. He has designed sophisticated integrated communications solutions for military, schools, and corporations. His passion is storytelling through media, especially through the use of new and social media. Also an Eagle Scout, Michael understands the value of community and collaboration.
Michael Petersen
Bitcoin - CFO aka "The Prized Pup of Tealet"
Our business is about bringing transparency to international business and cutting out the unnecessary middlemen that take away the profits of the producer. Bitcoin is our savior. He's just a young pup and can be a bit unpredictable, but once the world gets to know Bitcoin they are sure to love him and his cute little face. Learn more about our work with Bitcoin and get a discount for using btc: Click here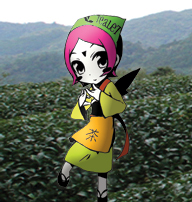 Tea Fairy - Logistics Manager
The Tea Fairy is a magical blessing that has recently joined the Tealet team. She absolutely loves tea and is friends with many tea farmers around the world. She has taken the position of Logistics Manager with Tealet. Her responsibilities include but are not limited to flying to tea farms, collecting the leaves, and bringing them directly to your door. She is energized by TEA!